FRONTYARD PROJECTS Local, future-focused arts
BANK BALANCE: $1258.79 (last updated 30/03/2017)
VISIT 228 Illawarra Rd, Marrickville NSW 2204
CONTACT info[at]frontyardprojects.org
Frontyard is open for events and by appointment, plus first Thursdays of each month from 4.30 - 6.30pm for open house, or when listed by the librarians.
A Not-Only-Artist Run Initiative. A pro-active, flexible space for practical skills-sharing, community cultural engagement and critical research, with arts at its heart. Our aim is to challenge, facilitate and nurture collaborations between people with a passion for culture and to build a more resilient and sustainable independent arts community for the future.
Note: These are not set weekly hours. The times change every week as frontyard and its library are only open whenever librarians are available to sit the space or there is a public event booked into the calendar.
(If you have difficulty seeing the times above check the library calendar and/or the event calendar)
---
---
March Donors @ Frontyard:
($65) Internets brought to you by OAF
($40) Rent brought to you by Fionnuala Heiden
($100) Lights brought to you by P Williamson
($50) Water brought to you by ______
($50) Fresh food for residents brought to you by Critical Read-in Participants
($40) Workshop supplies brought to you by Sara Rosa
($30) Cuppas brought to you by ______
($80) Risograph paper and ink brought to you by ______

---
If you want to make a donation the Frontyard banking details are:
BSB 032067 / account # 577740
and email us what you would like to "cover us" for.
---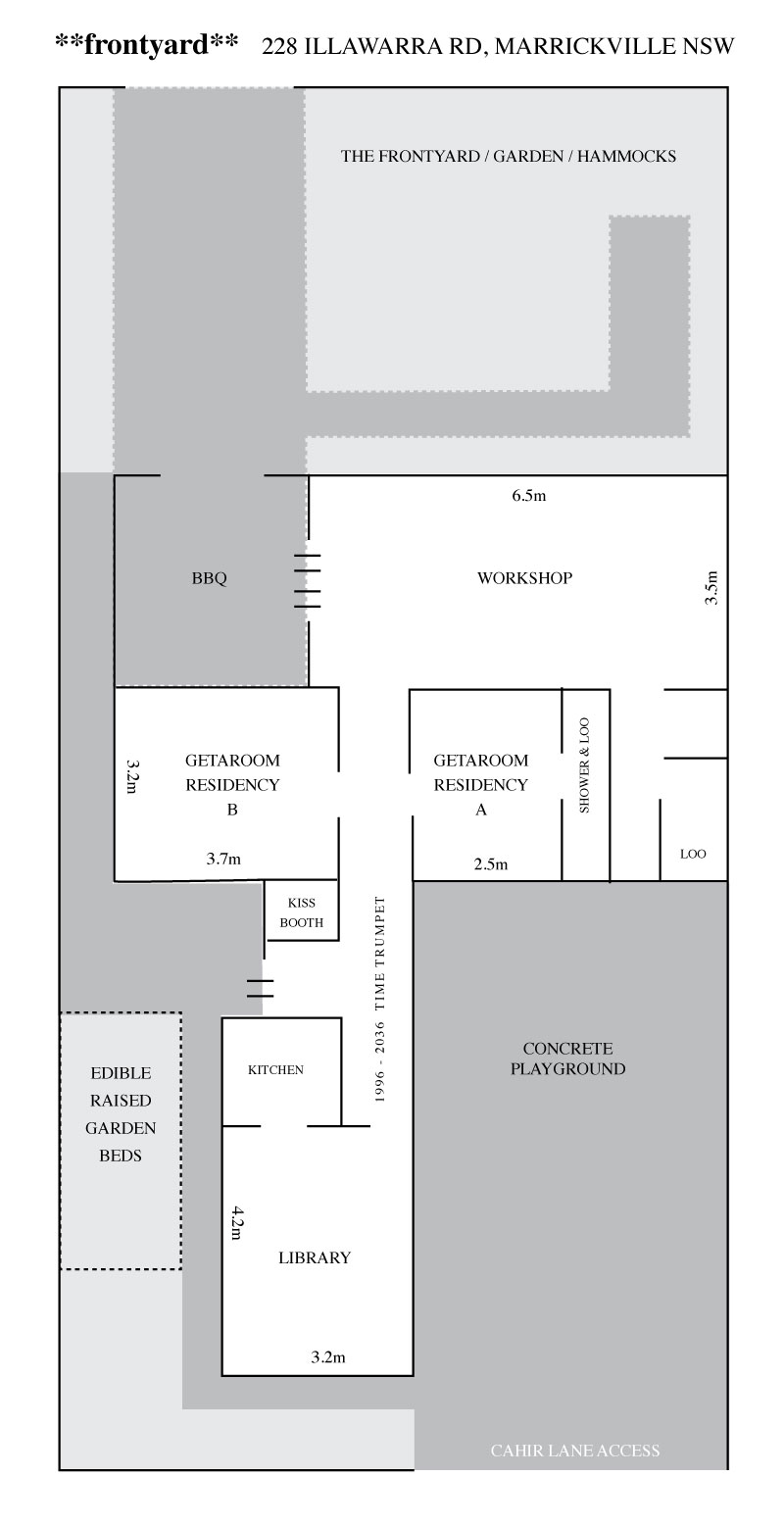 Frontyard is currently supported by a rental subsidy from Inner West Council (aka Marrickville Council).