FRONTYARD PROJECTS Local, future-focused
BREATHING SPACE 9.93 (last updated 26/3/2018)
ANNUAL REPORTS 2017, 2016
VISIT 228 Illawarra Rd, Marrickville NSW 2204
CONTACT frontyardprojects[at]gmail[dot]com or Join us on Slack
Frontyard is open for events and by appointment, plus last Sunday of each month 1-3pm for open house, or when listed by the librarians.
A Not-Only-Artist Run Initiative. A pro-active, flexible space for practical skills-sharing, community cultural engagement and critical research. Our aim is to challenge, facilitate and nurture collaborations between people with a passion for culture and to build a more resilient and sustainable independent arts community for the future.
Note: These are not set weekly hours. The times change every week as frontyard and its library are only open whenever librarians are available to sit the space or there is a public event booked into the calendar.
(If you have difficulty seeing the times above check the library calendar and/or the event calendar)
---
---
April 2018 Donors @ Frontyard:
($65) Internets brought to you by Kirsten Seale & Prue Gibson
($40) Rent brought to you by Tom Robinson
($50) 100% renewably powered lights brought to you by Cloudship Press / Tessa Zettel & Susie Nelson
($50) 100% renewable computer power brought to you by ______
($50) Water brought to you by Julia Bavyka
($50) Fresh food for residents brought to you by ______
($40) Workshop supplies brought to you by ______
($30) Cuppas brought to you by ______
($80) Risograph paper and ink brought to you by ______
($45) Legal fees brought to you by The Accountability Institute

---
If you want to make a donation the Frontyard banking details are:
BSB 032067 / account # 577740
and email us what you would like to "cover us" for. Please do not feel constrained by the shown amounts. Every donation, big or small, is welcome and keeps frontyard going.
A big thank you to all donors who gave **frontyard** BreathingSpace*
*BreathingSpace: **frontyard** could survive x months without further income, based on current expenses (+ a 10% safety margin) and available funds (excl. our $2,000 special relocation reserve).
---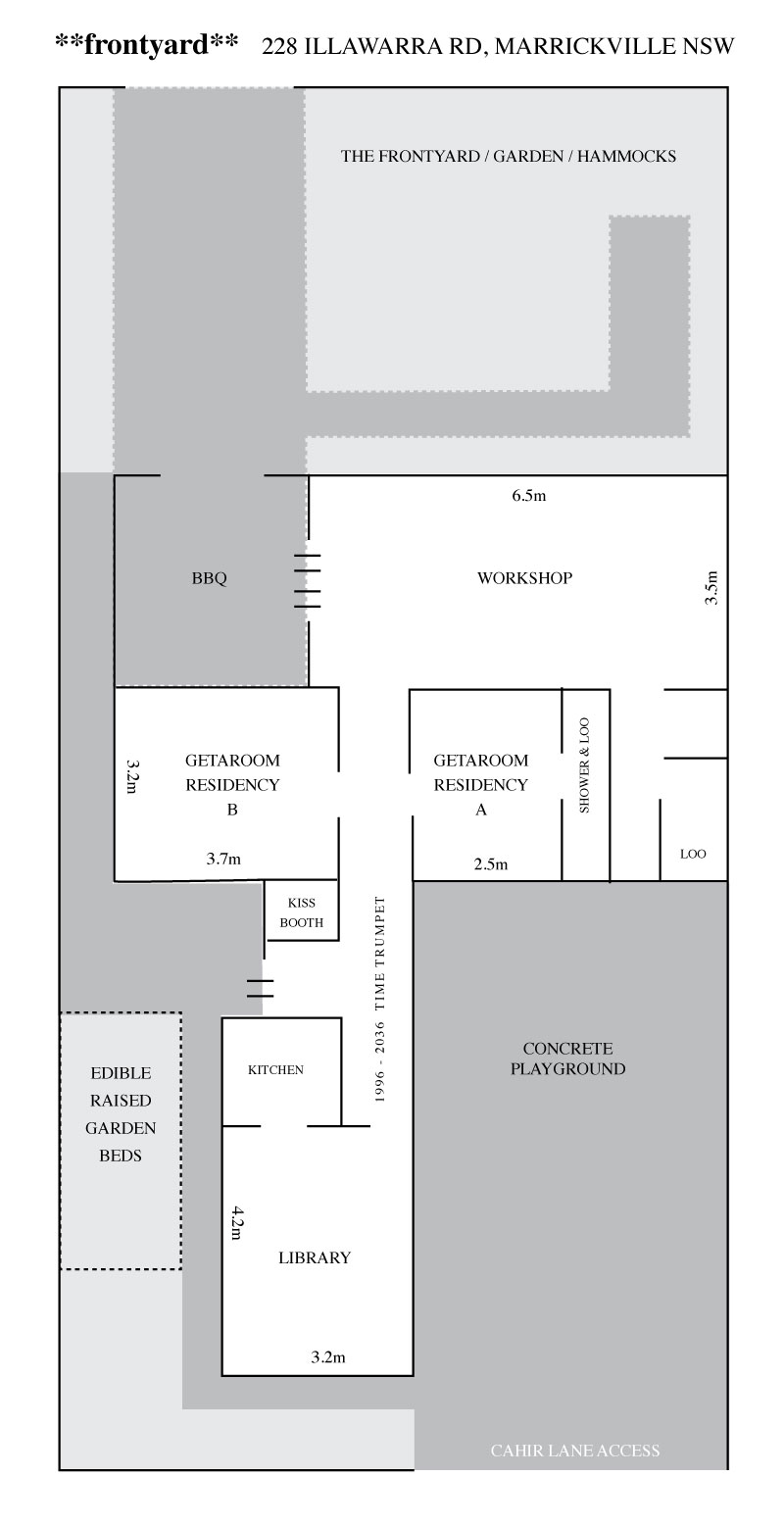 Frontyard is currently supported by a rental subsidy from Inner West Council (aka Marrickville Council).